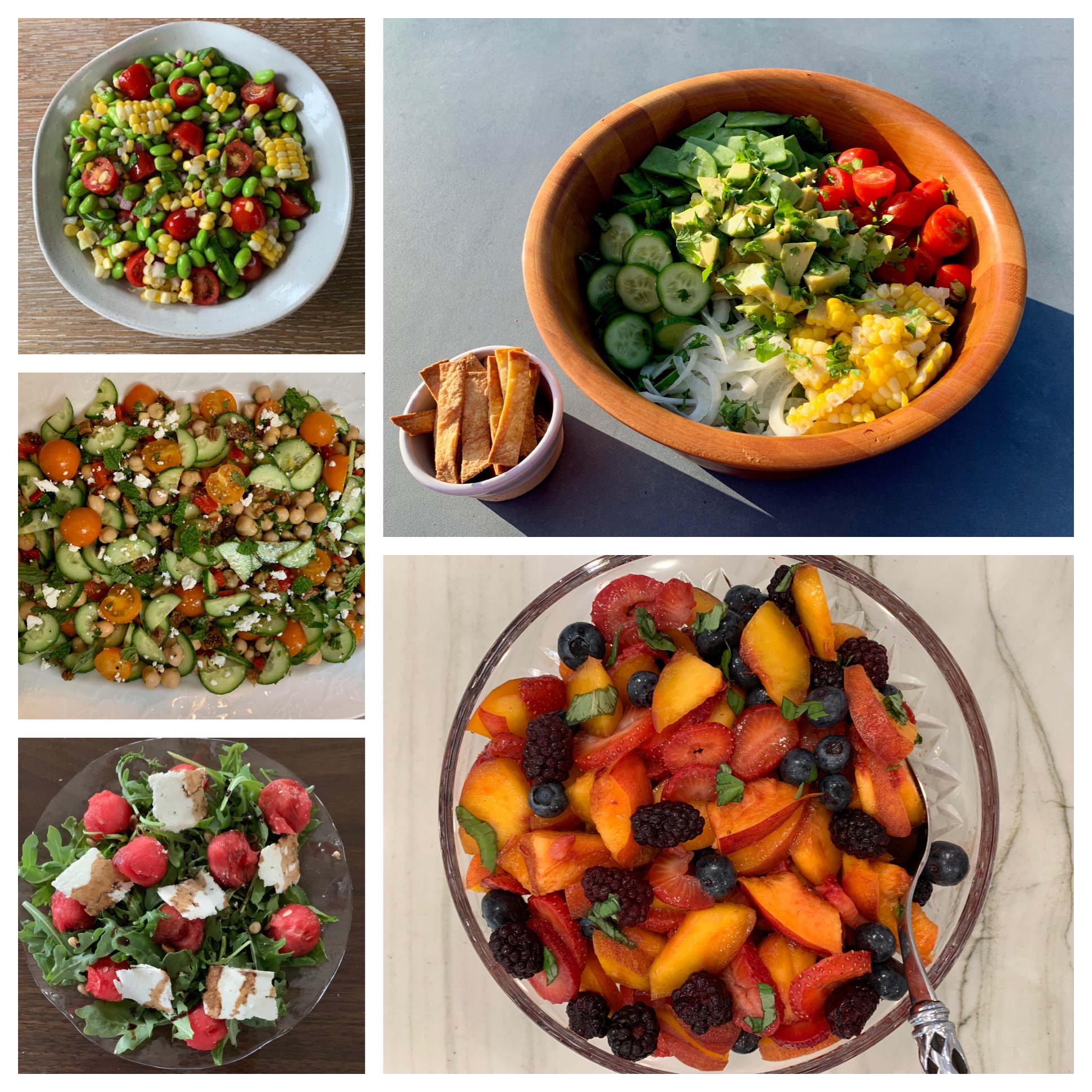 Posted on August 17, 2020
Every season is salad season in my home, but summer is the salad season I enjoy most. In hot summer weather, it never seems wrong to serve a salad as the centerpiece of our dinner. Sometimes I add a protein like fish or lean poultry, and other times the salad is all we need for a complete meal.
In this post, I share recipes for five of my favorite healthy summer salads, including links to my sources (with my adaptations in some cases). Each salad is simple to put together. You should feel free to substitute ingredients you have on hand and modify according to your tastes and dietary needs. I've shown how each salad helps meet guidelines for healthy eating, which include consuming healthy oils; eating plenty of vegetables and fruits, choosing a variety of all colors; and eating plant-based proteins such as beans and nuts. After the recipes, I offer tips for keeping your salad-eating healthy.
Corn, Tomato and Edamame Salad (pictured top left)
Source: Kitchen Treaty
2 ears fresh, husked corn (or 1 ½ c. thawed frozen corn kernels)
1 10-oz. bag frozen, shelled edamame, defrosted or cooked
1 pint (10 oz. or about 1 ¼ c.) cherry tomatoes, halved
½ small red onion, diced (Hate dicing onions? Me too. Get this.)
5-6 basil leaves, chiffonaded
2 T. extra virgin olive oil
1 T. white balsamic vinegar
½ t. kosher salt or fine sea salt, or to taste
¼ t. freshly ground black pepper, or to taste
Boil corn for 3 minutes and remove from pot to cool.
Hold corn cobs on end on a cutting board and shave off kernels with a sharp knife.
Add corn kernels, edamame, cherry tomatoes, onion and basil to a large bowl.
Drizzle in olive oil and vinegar. Add salt and pepper.
Toss. Taste and add additional salt and pepper if desired.
Serve immediately or refrigerate. Keeps well in refrigerator up to 3 days.
Serves 4-6 as a side dish.
What's good: Whole grain, plant-based protein, vegetables, healthy fat
Mediterranean Chickpea Salad (pictured middle left)
Source: Love & Lemons
2 T. extra virgin olive oil
3 garlic cloves, minced (I use bottled minced garlic cloves)
1 T. lemon zest
2 T. lemon juice
¾ t. sea salt
Freshly ground black pepper to taste
Heaping 1/2 t. ground cumin
2 c. canned chick peas (garbanzos), drained and rinsed
1 c. cherry tomatoes, halved
4 Medjool dates, pitted and diced (I have substituted mission figs)
3 Persian cucumbers, sliced into thin half-moons (these are the smaller ones, about 5-6" long; you can substitute pickling cucumbers, but peel them first)
1/3 c. chopped roasted red peppers
¼ c. chopped parsley (I use the little herb cups from Gourmet Garden but use less because the parsley is more densely packed in the cups)
3 oz. goat cheese (the original recipe recommends honey goat cheese)
¼ c. fresh mint
In a large bowl, combine olive oil, garlic, lemon zest, lemon juice, cumin, salt and several grinds of pepper.
Add the chickpeas, tomatoes, dates, cucumbers, red peppers and parsley to the bowl and toss.
Transfer to a serving platter and dollop with goat cheese and sprinkle with mint. Season to taste and serve.
Serves 4 to 6
What's good: Plant-based protein, vegetables, fruit, healthy fat
Watermelon and Arugula Salad (pictured bottom left)
Source: This simple, unmeasured recipe is my own
Baby arugula
Watermelon, cut into 1" chunks or made into balls with a melon baller
Ricotta salata cheese (can substitute feta, but I prefer ricotta salata. See Note below)
High quality aged balsamic vinegar (I use Aged Balsamic Vinegar of Modena from Whole Foods, which is especially good because it's nearly as thick as a balsamic reduction)
Pine nuts
Toast a small handful of pine nuts in a skillet until they begin to turn golden (this happens quickly), stirring constantly. Remove from heat and stir until pine nuts stop cooking.
Spread arugula on a serving platter or on individual plates.
Scatter watermelon chunks/balls evenly atop arugula.
Shave ricotta salata and place shaved pieces on the salad.
Drizzle with balsamic vinegar.
Scatter pine nuts atop salad.
Note: While ricotta salata is lower in fat and sodium than some cheeses, it still contains saturated fat and enough sodium that you should use it sparingly on your salad.

What's good: leafy green vegetable, fruit, nuts

Mexican Salad with Lime Dressing (pictured top right)

Source: Natasha's Kitchen
1 large head Romaine lettuce, rinsed, chopped and dried
1 c. cherry or grape tomatoes, halved
1 avocado, diced
½ English cucumber, sliced
½ small yellow onion, very thinly sliced
1 c. snap peas, whole
½ c. corn kernels (freshly cooked or thawed from frozen)
1/3 bunch fresh cilantro (for convenience, I use an equivalent amount from a Gourmet Garden cup, keeping in mind that the herbs in cups are more densely packed)
Dressing:
1/3 c. extra virgin olive oil
Juice of 2 medium limes, about 1/3 cup
¼ - ½ t. tabasco sauce, or to taste
½ t. sea salt
1/8 t. freshly ground black pepper
Combine all salad dressing ingredients and shake or whisk them together.
Chop all salad ingredients and combine in a large bowl.
Shake or whisk dressing again. Drizzle on salad, then toss.
Serves 4 to 6 as a side dish.
Note: I like to serve with homemade tortilla chips made from cutting corn tortillas into slices, drizzling with olive oil, sprinkling lightly with salt and baking until golden.
What's good: Whole grain, vegetables, plant-based protein, healthy fat
Summertime Fruit Salad (pictured bottom right)
Source:Cookie and Kate
1 lb. strawberries, hulled and thinly sliced
3 medium peaches, thinly sliced
1 c. blueberries
1 heaping T. fresh, chopped basil or mint
2 T. lemon juice (about 1 medium lemon)
1 T. maple syrup or honey
2 t. balsamic vinegar
In a medium serving bowl, combine the strawberries, peaches, blueberries and basil.
Drizzle the lemon juice, maple syrup and vinegar on top.
Toss gently to combine. Serve immediately or chill for later.
Serves 6.
What's good: fruit, fruit, and more fruit!

Tips for healthy salad eating:
1. Bottled salad dressings: use them carefully and sparingly. Read the labels. Many have too much added sugar and sodium, as well as additives. They may also use sub-optimal oils. "Sugar free" should be a red flag as it may mean unhealthy artificial sweeteners have been added. "Fat-free" is also not good since our bodies need fat to help us absorb the nutrients in leafy green and bright-colored vegetables.Eating Well offers several easy-to-follow recipes for homemade dressings.
2. Store-bought mayonnaise and mayonnaise-based salad dressings: use sparingly since they often have a lot of fat and calories when consumed in the usual amounts.
3. Wash fruits and vegetables carefully before using them to get rid of pesticides. Try to buy organic, if possible.
Enjoy!